Caboose 011
Caboose 011 was the M.C.R.R.'s first caboose and grew from plans of a Florence and Cripple Creek caboose in the April 1959 issue of "Railroad Model Craftsman". It is faithful to the F.&C.C. plans, though it was built slightly longer than the original to accommodate a higher passenger capacity. With its windowed cupola, it quickly became the most popular car for riders. It was built off of S.P. flatcar No. 201.
Caboose 903
Caboose 903 operated in Alaska on the White Pass and Yukon Railway, and was built in-house after retiring the original, wooden No. 903. It was purchased by Jim Machacek of Northfield, MN and shipped to the Midwest Central Railroad in 1990. On September 5, 1998, Jim sent a letter of intent to donate the caboose to the Midwest Central Railroad. On December 7, 1998 the donation was made official and ownership of the caboose was transferred to the Midwest Central Railroad.
Bellevue and Cascade Caboose 055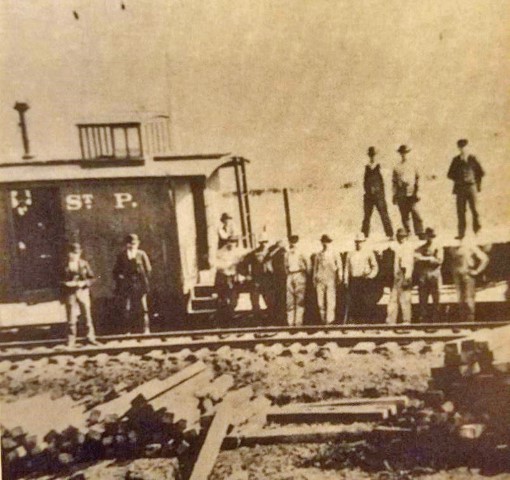 Caboose 055 in service on the Bellevue & Cascade date unknown. Note the original cupola configuration
Bellevue and Cascade caboose 055 is a genuine Iowa narrow gauge car. Built by the Ohio Falls Car Company around 1880. It served on the Bellevue and Cascade in NE Iowa until the line closed around 1936. It was their only caboose.

After the B&C shut down, one of its engineers bought the caboose and kept it on his property as storage. It sat outside rotting away for decades before being moved to Maquoketa in the '60s. By this time its condition was very bad.

Around 1980 Jim Schroeder of Bellevue, Ia. purchased what was left of the car and got to work on what became a very impressive restoration. He meticulously replaced all of the rotten wood creating an exact copy of each piece. He reused what hardware he could but nearly all of the wood is new. When finished, he used the car as a guesthouse when the Schroeder's would entertain guests.
In 2004, after talks with the Schroeder family, arraignments were made to move the caboose to Mount Pleasant to be used on the Midwest Central Railroad with the Schroeder family maintaining ownership. Once here, the under carriage was completed so that it could be used in operations.
In 2019, the Schroeder family signed the donation documents to transfer full ownership to the Midwest Central Railroad.